Michael Phelps Momentum Deep
£49,995.00
The Michael Phelps Momentum Deep is a dual zone swim spa, this means you have a swim section and a hot tub section. These two bodies of water can be set at different temperatures and controlled independently. Set the pace of your workout with the adjustable speed swim system, then swim, jog, walk or exercise in the uninhibited swim area at the perfect water temperature, usually around 28°-30°C. On the other side you can settle into the hot tub section with the temperature set to say 38°C. Both zones can be used at the same time so for example, Mum and Dad can sit back and relax in the hot tub while they keep an eye on the children playing in the swim area.
The Michael Phelps Momentum Deep has the Wave XP propulsion system which uses propellers, rather than jets, to generate the swim current. The Wave XP Pro Propulsion System takes advantage of Master Spas' patented Wave Propulsion Technology. The unique propeller design does not require air to be introduced into the water to increase its strength, allowing for a more realistic swimming experience.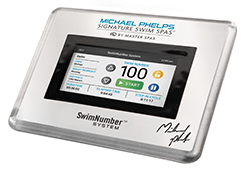 A variable speed motor allows you to choose your level of resistance. From zero to 100%, you you can find the ideal speed for your swim or exercise session — all from the easy-to-use SwimNumber™ System and is capable of producing a water current equivalent to a sub-75 second pace per 100 meters.
Not only does a Michael Phelps Signature Series Swim Spa outperform other swim spas, they actually cost less to operate. In fact, our swim spas are the most energy efficient swim spas on the market today. The ultra energy-efficient motor used as part of the Wave Propulsion® System costs up to 70% less to operate than industry standards.